Online Exhibition: Off the Grid: 2021 Illustration MFA Visual Thesis Exhibition—Opens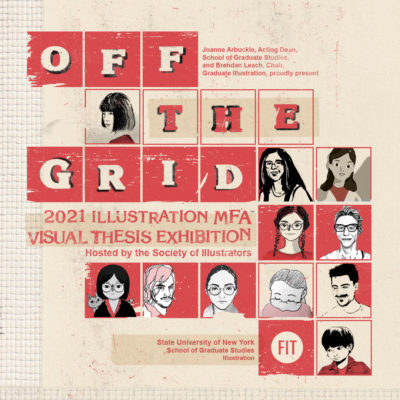 Opens June 10
The School of Graduate Studies presents the 2021 Illustration MFA Visual Thesis Exhibition, Off the Grid, as an online exhibition hosted by the Society of Illustrators.
The MFA in Illustration at FIT is a three-year program designed to provide opportunities to develop a creative voice and refine technical skills. All aspects of the illustration field are explored. Students complete a qualifying academic paper that focuses on a specific element of illustration history, criticism, or cultural impact. The program culminates with a visual thesis, initiated by the student, which synthesizes all elements of the program.
This virtual exhibition is free and open to the public; view it on the Society of Illustrators website at societyillustrators.org/onlinegalleries/fit-2021.