Dr. Joyce F. Brown, president of the Fashion Institute of Technology, is being recognized in Diverse: Issues in Higher Education magazine for her contributions to higher education. In celebration of Diverse's 30th anniversary, 30 women with outstanding accomplishments and exemplary leadership in higher education are being honored for Women's History Month. The Women's History Month edition will be published on March 27.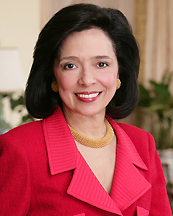 According to Diverse Executive Editor David Pluviose, "Each of the 30 women we are honoring for this special 30th-anniversary feature for Women's History Month has made an indelible impact in the world of higher education and beyond. We salute their outstanding achievements and look forward to sharing them with the world."
Dr. Brown, a highly regarded educator and academic administrator, has had more than 30 years of experience in public higher education. She held a number of senior administrative posts at the City University of New York (CUNY) before arriving at FIT, including acting president of Bernard Baruch College and vice chancellor of the university. Prior to her appointment at FIT, she was professor of clinical psychology at the Graduate School and University Center of CUNY, where she is currently professor emerita. Dr. Brown also served as a New York City deputy mayor for public and community affairs during the David Dinkins administration.
In 1998, she was appointed FIT president, the first woman and first African American to hold this post. Since then, Dr. Brown has engaged the FIT community in comprehensive strategic planning, built the faculty ranks by more than 20 percent, expanded the curriculum, improved student services, renovated the campus, enhanced technology, and attracted unprecedented financial support for the college. Under her leadership, diversity, sustainability, and global perspective have become part of the FIT mission. The college serves over 10,000 full- and part-time students with a faculty and staff of more than 1,700.
Diverse: Issues in Higher Education is the only biweekly national print newsmagazine focusing exclusively on diversity issues in higher education.