In commemoration of the Holocaust, the Fashion Institute of Technology (FIT) will host a free talk by world-renowned architect Daniel Libeskind on Thursday, April 24, at 1 pm. Libeskind will present the concepts behind such projects as the Jewish Museum Berlin, the Danish Jewish Museum, the Felix Nussbaum Museum, and the Military History Museum in Dresden. The son of Holocaust survivors, Libeskind will also discuss the acute sense of responsibility he feels when accepting commissions for projects addressing Jewish history and his desire to create work that testifies to both the traumas of that history and the resilience of the Jewish spirit.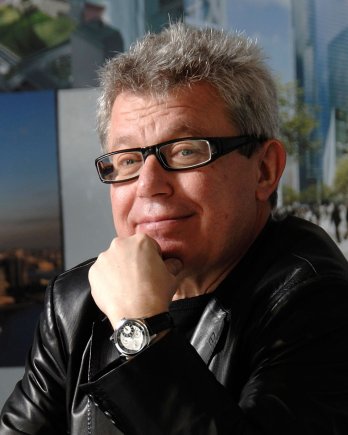 While Libeskind's projects incorporate his vision of architecture as sites that reinterpret a past that dwells on trauma and loss, they further reveal his belief that architecture can build bridges to the future by "staring clear-eyed into the past." This insistence on an inherent optimism in architecture, and on a universal ability of architecture and buildings to bring us closer to the truth, guides Libeskind's approach. He holds that both truth and the universal can be captured, but not by erecting buildings with a "neutral face" that denies history. Rather, it is through the particular that one can access the universal in which concrete and individual histories infuse buildings with life.
Throughout the day on April 24, members of the FIT community will read the names of Holocaust victims in the David Dubinsky Student Center dining hall (9 am–1 pm and 2–6 pm).
In addition, an exhibition of Libeskind's architectural drawings and photographs will be on display in the Dubinsky Student Center Lobby from April 21 to April 25. A digital version of the exhibition will be on view outside the Morris W. and Fannie B. Haft Auditorium, where the talk is being held, before, during, and after the talk on April 24.
Born in Lodz, Poland, in 1946, Libeskind received his architecture degree from Cooper Union and a postgraduate degree in History and Theory of Architecture from the School of Comparative Studies at Essex University, England. He has taught and lectured at universities worldwide.
Libeskind established his architectural studio in Berlin in 1989 after winning the competition to build the Jewish Museum there. In February 2003, after he was selected as the master planner for the World Trade Center redevelopment, Libeskind moved his firm's headquarters from Berlin to New York City.
Libeskind has received numerous awards, including the Deutsche Architekturpreis in 1999, the 2001 Hiroshima Art Prize, and the Buber-Rosenzweig Medal in 2010.
The Fashion Institute of Technology, a college of the State University of New York, has been a leader in career education in art, design, business, and technology for nearly 70 years. With a curriculum that provides a singular blend of hands-on, practical experience, classroom study, and a firm grounding in the liberal arts, FIT offers a wide range of outstanding programs that are affordable and relevant to today's rapidly changing industries. Internationally renowned, FIT draws on its New York City location to provide a vibrant, creative community in which to learn. The college offers more than 45 majors and grants AAS, BFA, BS, MA, MFA, and MPS degrees, preparing students for professional success and leadership in the global marketplace.