Now in its third year, the Summer Institute for Sustainability in Fashion and Textiles, held June 6-9, brought together 41 global sustainable leaders from universities, corporations, and startups, from as far as Sweden and as close as New York's Garment District, for four days themed around Systems Disruption: the ways innovators are challenging current wasteful practices to create a sustainable future.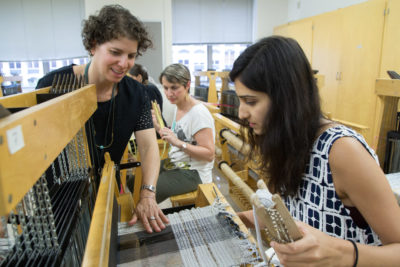 "The system of fashion has been broken for a long time, in where we produce, how we produce, and what we produce," said Sass Brown, acting associate dean of the School of Art and Design, who spearheads the conference each year. "The intent of this year's Summer Institute was to highlight a diversity of responses from people in the industry, from the maker community to emerging designers to the corporate and brand space."
Brown planned the 2016 conference with Jeffrey Silberman, chair of the Textile Development and Marketing program; and Susanne Goetz and Nomi Kleinman, assistant professors of Textile/Surface Design.
Monday was devoted to artisanship, with sessions geared toward the resurgence of craft in an industrialized world. Simone Cipriani, founder and head of the Ethical Fashion Initiative, kicked off the program with a lecture on connecting African designers to consumers worldwide.
Tuesday's theme was "disruptors," during which Brown moderated a panel entitled "The Hidden Price Tag," about the true cost of cheap clothes, from sweatshops to toxic chemical runoff.
On Wednesday, panelists discussed methods of improving transparency within the supply chain, including marking the DNA of natural fibers such as pima cotton and cashmere to ensure that these fibers make it into the final product. Another panel focused on the resurgence of natural indigo, and a related workshop allowed participants to get their hands wet in dyeing with indigo.
Thursday's panels looked at new possibilities for recycled textiles, as well as the rise of futuristic materials such as laboratory-grown leather and smart textiles. Field trips on Friday brought participants to nearby sustainable design studios.
One of the strengths of the Summer Institute, Brown said, is that "we're capable of having quite difficult and potentially contentious conversations in a very respectful manner. No one is perfect, and everyone's striving toward the same end. The more we listen and share, the better we'll get it."
Learn more at fitnyc.edu/summer-institute/