Visitors to Bloomingdale's 59th Street flagship have been enjoying a visual treat courtesy of FIT's Illustration Department: chalk murals celebrating six Broadway shows playing now, including Dear Evan Hansen and The Lion King. FIT students and alumni conceived of and painted the murals (using a chalk suspension) to coincide with a September 9 shopping event promoting the reopening of Broadway.
Because the event took place two days before the 20th anniversary of the September 11 terrorist attacks, the artists included a mural recognizing that tragic event. In addition, they painted three panels depicting sushi-based flights of fancy to acknowledge a restaurant sponsor.
The project was similar to ChalkFIT, the college's annual outdoor art display created by seniors studying Illustration. Dan Shefelman, chair of the Illustration and Interactive Media Department, chose these artists based on whose ChalkFIT murals had impressed him in recent years. Alumni mentored students to conceive of and execute each mural.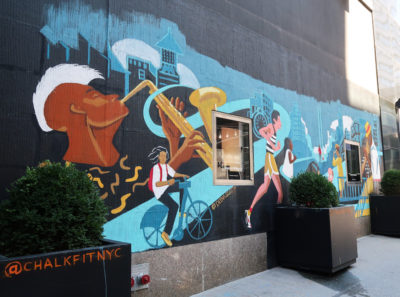 Bloomingdale's not only paid the artists, they donated to the FIT Foundation. Shefelman hopes the project can be a model for future art installations, providing an income source for working artists.
"My goal is to offer murals as a business that produces projects all over and hires exclusively FIT students, alumni, and faculty," he says.
Bloomingdale's execs were thrilled with the results.
"We know they had a bump in sales that day," Shefelman says. "A lot of credit goes to the Broadway stars at the store, but we were part of it, by engaging with the public and welcoming them inside."